BC Home Sales and Prices are Both Up – and Down
It might not be as hot a spring as last year, but it's a lot hotter than fall – at least in terms of the BC real estate stats released May 15 by the British Columbia Real Estate Association (BCREA).
The association recorded 9,865 homes exchanging hands on the Multiple Listing Service® last month, down 23.9 per cent from April last year but up 0.4 per cent over March this year, as the graph below shows.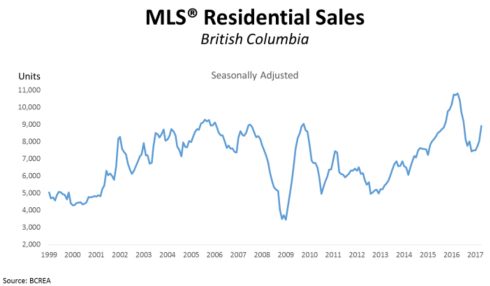 "BC home sales are on an upward trend this spring, led by a sharp increase in consumer demand in the Lower Mainland," said Cameron Muir, BCREA's chief economist.
The average MLS® residential price in the province was $728,955, a two per cent decrease from the same period last year. The only two boards (out of 12) to report average sale price declines since April last year were Greater Vancouver (down 3.3 per cent) and the Fraser Valley (down 0.3 per cent). With the bulk of home sales in the province occurring in these two regions, this was enough to bring the provincial average down year over year. 
However, the BCREA has previously noted that this decline in average prices results from relatively fewer sales of expensive homes at the high end of the market. It does not necessarily result in lower prices for homes at the lower to middle end of the market, which are better represented by benchmark prices. Indeed, benchmark prices of typical homes in 
Greater Vancouver
 and the 
Fraser Valley
 both reached record highs in April, according to their respective real estate boards.
Vancouver Island and 
Victoria
 continued to see resale price increases, despite lower sales than one year ago, with average sale prices up 11.5 per cent and 3.7 per cent respectively.
The number of homes listed for sale across BC declined 17 per cent from April 2016 and is now standing at a 20-year low. The BCREA report said, "The imbalance between supply and demand is continuing to drive home prices higher in most regions, further eroding affordability."
National Activity
Across the whole of Canada, home sales dropped 1.7 per cent in April compared with the previous month, led by a fall in the Greater Toronto Area (GTA) and offset by increases in Greater Vancouver and the Fraser Valley, according to Canadian Real Estate Association stats also released May 15.
However, the Lower Mainland was the lead driver in a 7.5 per cent year-over-year fall in national sales activity, reported CREA."
Sales in Vancouver are down from record levels in the first half of last year but the gap has started to close," said Andrew Peck, CREA president. "Meanwhile, sales are up in Calgary and Edmonton from last year's lows and trending higher in Ottawa and Montreal."
Gregory Klump, CREA's chief economist, added, "Homebuyers and sellers both reacted to the recent Ontario government policy announcement aimed at cooling housing markets in and around 
Toronto
.
"The number of newly listed homes across the country jumped 10 per cent in April 2017, driven overwhelmingly by a 36 per cent increase in the GTA.
The national average price for homes sold in April 2017 was $559,317, up 10.4 per cent one year earlier. However, the benchmark price for a typical home in Canada (all property types combined) stood at $606,000, a rise of 19.8 per cent year over year – led by Greater Toronto's benchmark price, up 31.7 per cent since last April.
REW NEWS
Categories
Archives

Subscribe To This Blog